Chewie the Chewitsaurus
Monday, August 29th, 2016 at 9:25pm
Bethany Leigh Graham
Would love to win!!❤️
Kim Grattage
I'd love to win for my 12 year old daughter who's been a really big help over the holidays!!!! i would absolutely be so excited at the chance of winning this!!!!! Woop woo yes plz!!! Liked & shared for this fabulous giveaway! Thank you for the chance!! Gud luck all fingers crossed Joe Blogg
Cath Breach
Fabulous prize x would love to win this x Chewits remind me of my childhood. They were easily affordable with my pocket money and omg the flavours. Still buy myself a packet now and again and always buy them for my grandkids x😀😀
Zainul Nuniya
Thanks for this great opportunity to win these speakers because i need to gift my cousin a present and this is the type of thing for it. Liked&Shared
Natalie Catterall
OMG!!!! Amazing giveaway! Yes please! Thank you ever so much for the chance to win this fantastic prize! My fingers and toes are very tightly crossed! Liked and shared xxx <3
Carol Leadbeater
Grow up loving chewits, great choice of flavours Also my 4 children love them too , Happily sharing, Thank s for the chance x Shanna Leadbeater Lena Gamblin Lauren Nelson <3
Kyomi Johnson
Definitely love to chew it chew it thank you for the opportunity to enter
Maggi Liu
Fab prize! Thanks for the chance to win. LIKED & SHARED 🙂 x
Izzy Roberts
I'd love to win this fab prize! Be perfect for sitting out in this lovely sun listening to music, Liked and shared, thank you for the chance to win x Chloe Busby
Lindsey Kirk-pople
Great prize love to win to listen to out side while in my garden plus would take it camping with me as I always forget my radio all the time and surely my son would nick it off me oh not forgetting my packs of chewits while listening to my music remembering where I won it from if I'm lucky enough
Kirsty Louise Redding
OMG OMG!!! Amazing Giveaway Yes please i would absolutely love to win this Fantastic Prize 😍😘 thank you so much for the chance Liked and shared good luck everyone fingers crossed X
Viki Gibb
OMG it would be awesome to win this. I've had such a bad time this summer and I would love to spend time with my friends listening to some tunes to thank them for everything that they have done for me.
Maureen Morien
Fabulous prize, I've eaten chewits all my life it feels. My kids loved them and it's nearly time to introduce my grandkids to them! Liked and shared xx
Patricia Webster
Fantastic my disabled Grandson Duncan loves chewits theae are pne of the few sweets he can eat easily without choking. His nickname is Dunc the dinosaur! !
Steven Bufton
Fantastic prize, please count me into your great giveaway and thank you for the chance to win a lovely beats speaker, I have my fingers crossed
Nicola-Jane Phipps
Ooooh yes please 😊 Have liked and shared too! Would love to win this awesome prize! Thank you for the chance to win xx
Tracey Hallmark
Chew to me are everything 🎶🎶 😀😀 Thanks for this amazing giveaway sharing is the least I can do so others can get involved too 😀😀
Tara Smith
Omg this would be amazin I would do anything to win this and yes of course I would play I like to chew it chew it thanks X
Kate Williamson
Ill be playing ' I can't live, if living is without Chew'. 😀
Nicola Louisa Rowson
Amazing! liked and shared. Thank you for the chance to win 🙂 xx
Angel Ginders
Fantastic Prize. Thank You for the chance to win. Happily Liked & Shared with all my Facebook Friends.x
Krysta Mahon
Wow amazing giveaway! I would love to win liked and shared thanks xx Louise Catherine RobertsonAlison BurnsAnna Brown xx
Destiny Hartley
💃 Chew it Chew it 🎶 Fabulous present for myself 🎁 Loved and sharing the Chewiness!!!
Fiona MacLeay Marshall
Liked and happily shared, thanks for the opportunity to be your lucky winner 💕 Teresa Daniels Tracey Daniels Alison Burns
Ellen Davey
Would love to be in with a chance to win this fantastic prize it's chewtastic 😁😁😁
Thursday, October 19th, 2017 at 7:00pm
Today people all over the planet are celebrating #WorldValuesDay! What do you value? (Apart from love for Chewie!) Click to LIKE and SHARE! https://t.co/ywU9gmweGZ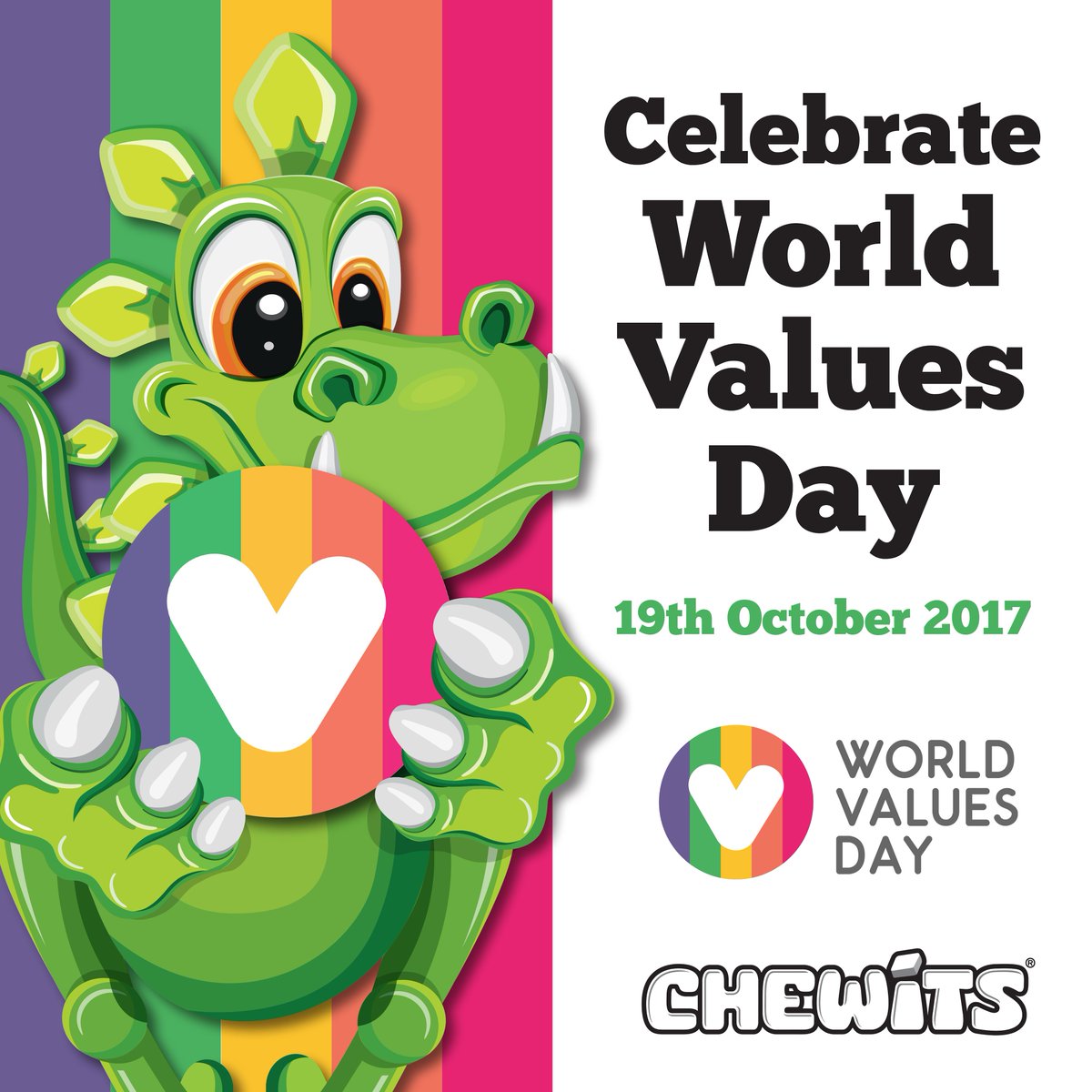 Monday, October 9th, 2017 at 6:33pm
@BeccaMorgs Hi Rebecca, we do periodically make small adjustments but this should not impact on the taste of Chewits! (-: Thank CHEW and keep CHEW-ing!
Monday, September 25th, 2017 at 5:00pm
Autumn begins! Chewie can't BELEAF Autumn has arrived! LIKE and SHARE your favourite Autumn memories with Chewie! https://t.co/yBekia0eXz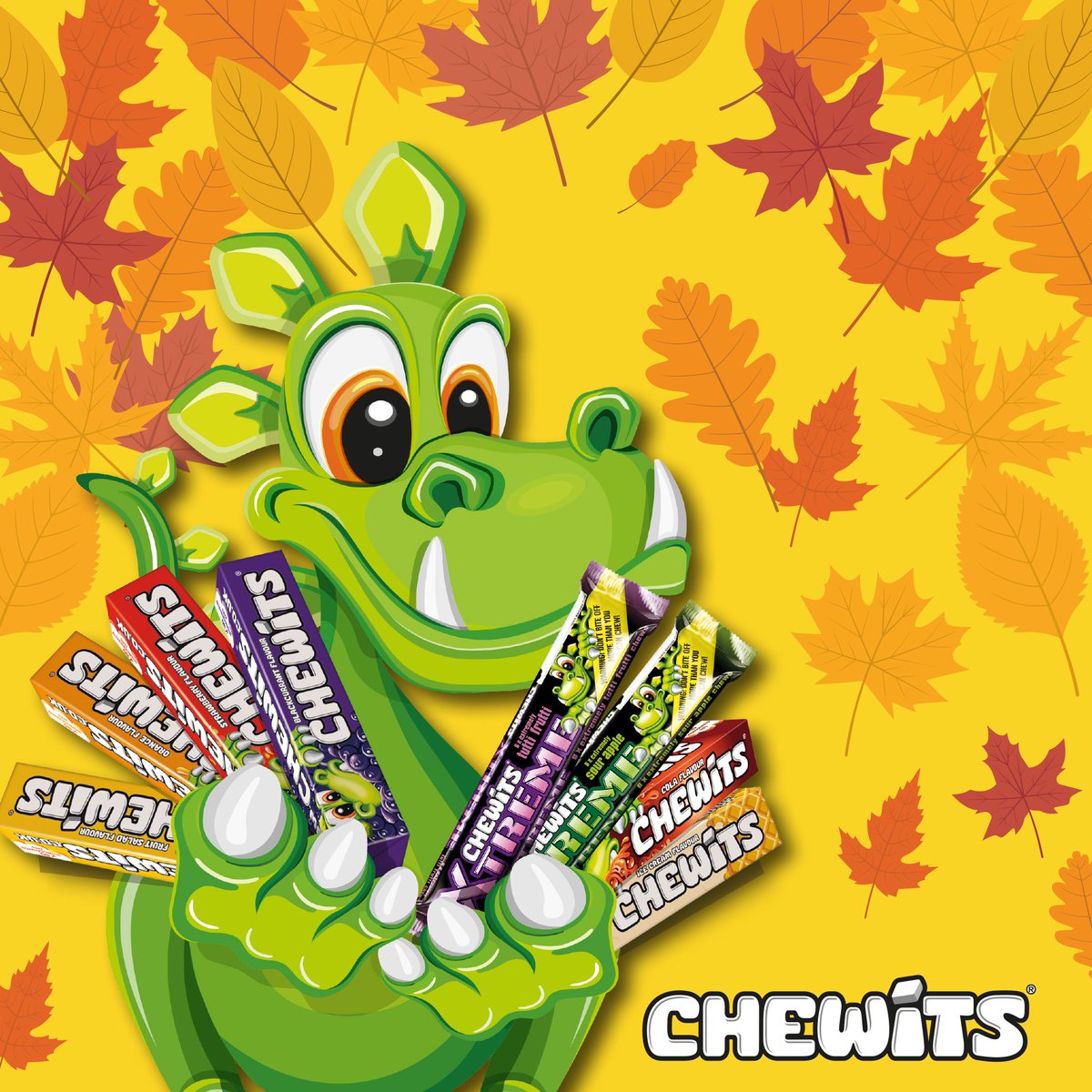 Friday, September 22nd, 2017 at 5:00pm
It's National Doodle Day! Stuck somewhere with pen in hand? Send a doodle to Chewie and raise awareness for Epilepsy Action! LIKE and SHARE. https://t.co/GvqEBoDDBQ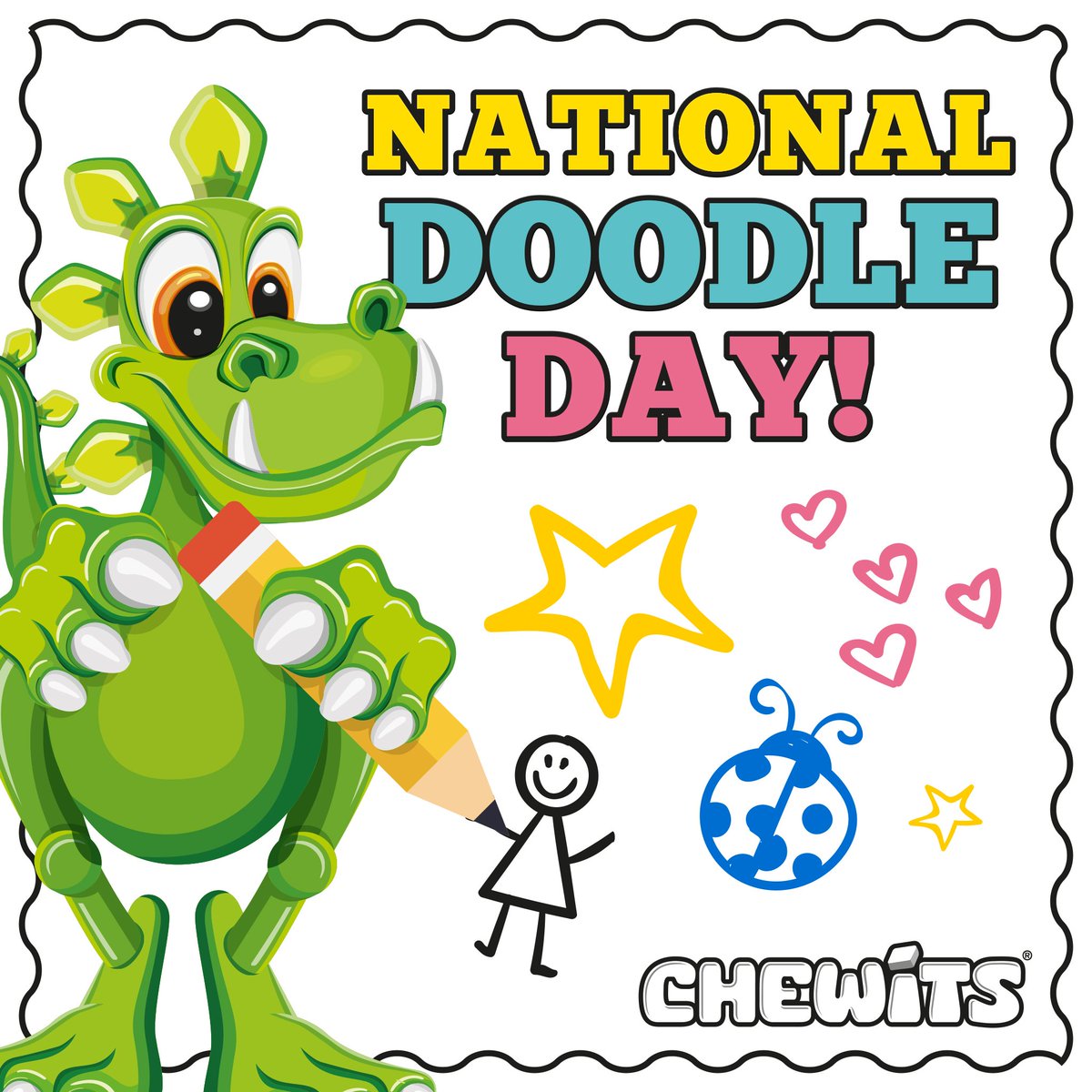 Tuesday, September 19th, 2017 at 5:00pm
Ahoy mateys! It's International Talk Like a Pirate Day! LIKE and SHARE your favourite Pirate Talk with Chewie! #Arrr #Pirate https://t.co/NAjclZ3hNv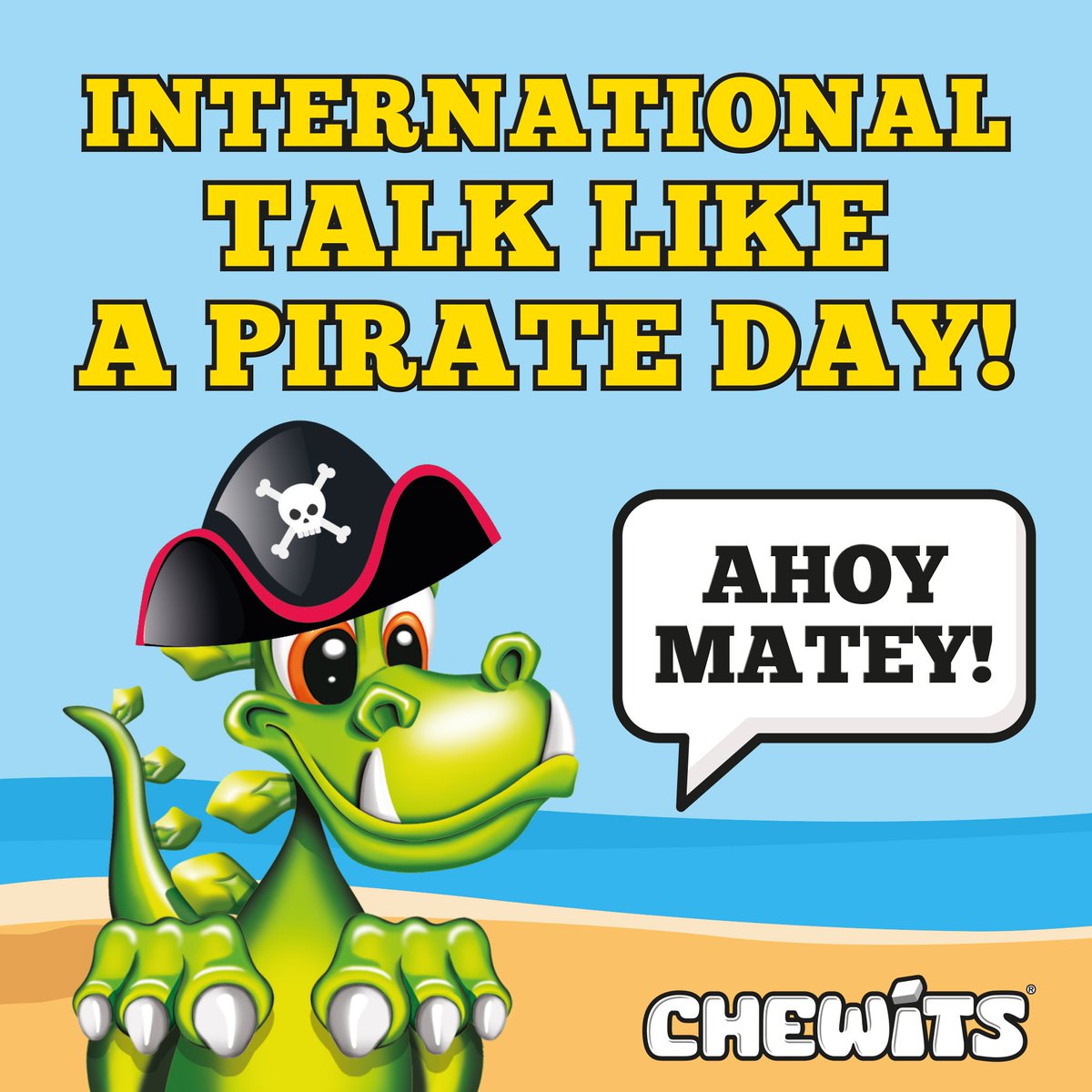 Friday, September 15th, 2017 at 5:00pm
Check out Chewie's look for London Fashion Week!
Think Chewie should take up a career in dino couture?!
LIKE and SHARE your #lfw ideas https://t.co/aZZH6vjayK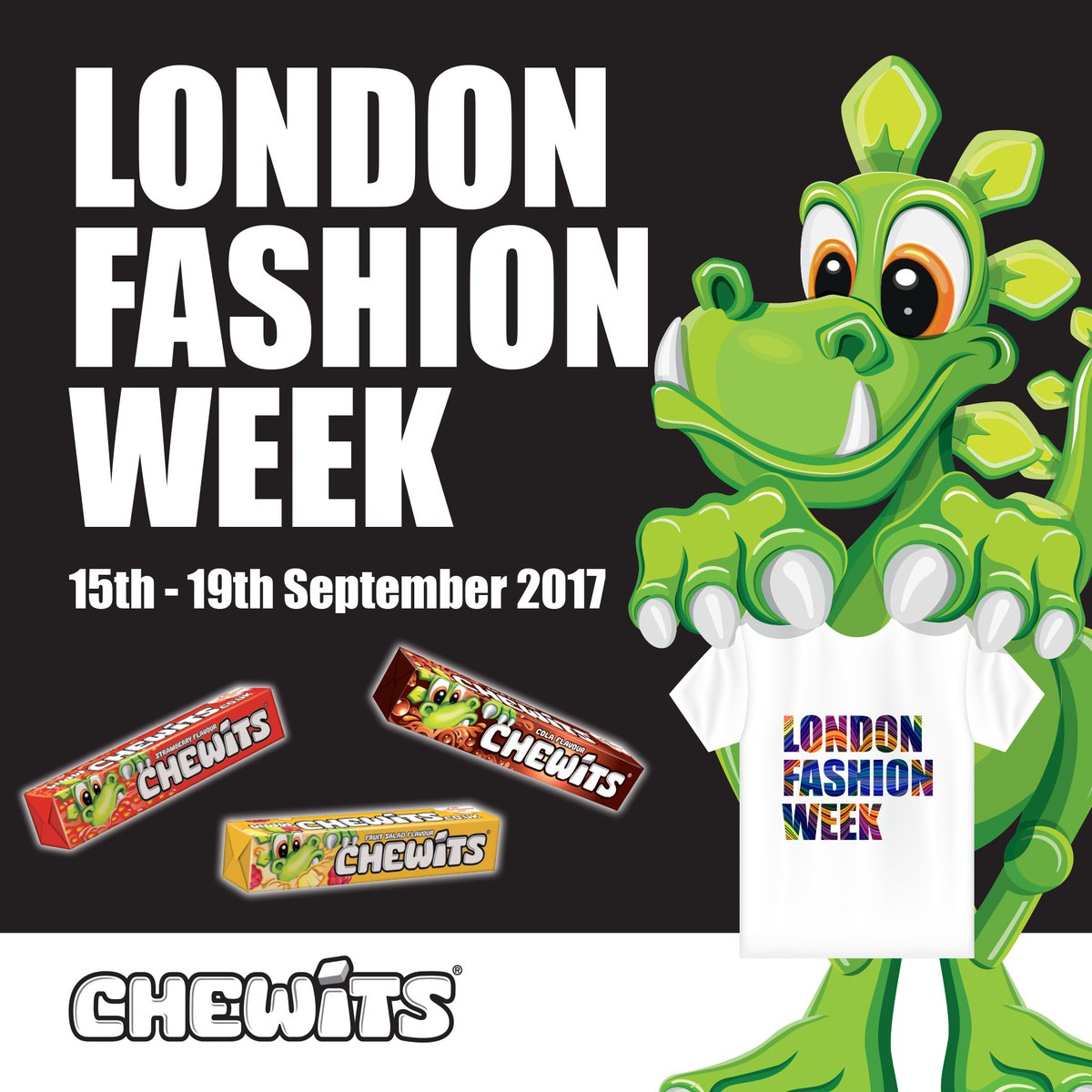 Wednesday, September 13th, 2017 at 5:00pm
It's Roald Dahl Day!
Why not go and grab yourselves some "scrumdiddlyumptious" Chewits treats?
LIKE and SHARE with Chewie! #Dahlicious https://t.co/6vISpRFTMr